We answer your questions 
about MamyPoko Pants!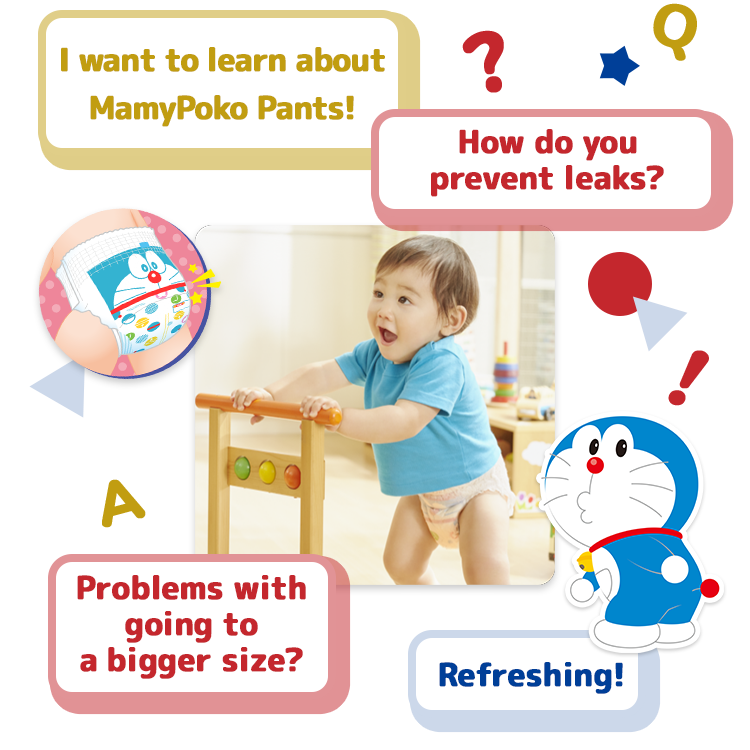 *Some products may differ from those sold in stores.
How do MamyPoko Pants prevent leaks?
We continue to work to improve MamyPoko Pants every day so you don't have to worry about leaks at night or on long outings.
The biggest secret why you don't have to worry about leaks is our gel that absorbs moisture for up to 12 hours!*
Unicharm's unique gel quickly and repeatedly draws in and absorbs plenty of urine for up to 12 hours*
*

Urine amounts vary by individual.
For: M, L, XL, and XXL sizes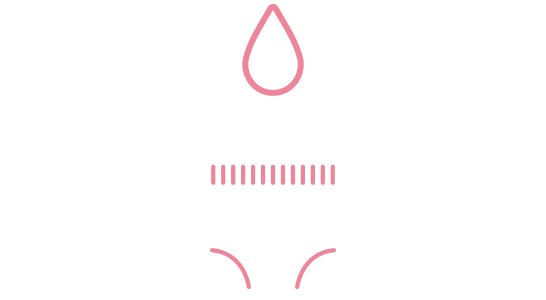 How do you make MamyPoko Pants so soft?
We continue to work to improve the softness of MamyPoko Pants every day.
Now has a new and improved super-soft waist!
This area has evolved to become amazingly soft.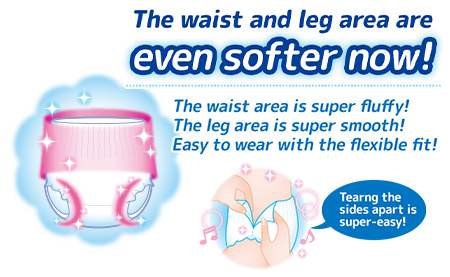 Are there any key points when putting diapers on so that it will prevent leaks?
There are two points to pay attention to when you put diapers on!
Please pull the diaper up to the navel area so there won't be gaps in the thigh area.
Please check to make sure the gathers around the stomach and the frills around the legs are not folded inward.
There are lots of ways to properly pull up MamyPoko Pants and prevent leaks around the legs!
For more information, please check the product details.
I'm having a problem because my child doesn't want me to put the diapers on.
Can you recommend any ways to solve this?
When putting diapers on your baby, try using the characters on the package and diapers.
MamyPoko Pants have a cute Doraemon design that everyone loves.
We've had people tell us happy stories about their children wanting to put diapers on because they like Doraemon.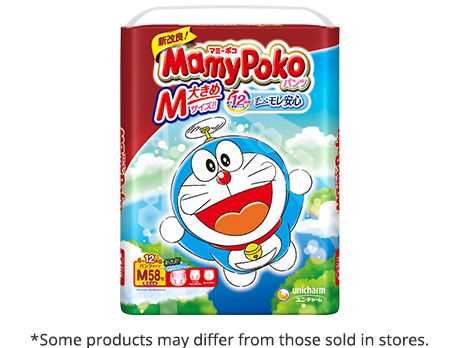 What guidelines should I use for going to a bigger size? Weight? Or body type?
disposable diapers list weight guidelines, but the guidelines for changing the size actually aren't just about weight.
Here are two guidelines for going to a bigger size.
If the urine on the surface starts to have a sticky feeling or sometimes leaks.
If there are red marks around the thighs or around the stomach.
My child's weight matched the weight guidelines, but the diaper unexpectedly didn't fit because of my child's body type.
As babies grow, their weights, postures, and bone structures change, which causes changes in the amount of urine each time and the condition of their feces.
When selecting a size, a key point is to not only consider weight, but also your baby's body type and the condition of their urine/feces.
Even if the listed size is the same, are different manufacturers' products different sizes?
Actually, different brands have various different diaper shapes and sizes.
For example, with the MamyPoko Pants little larger M size, you can use the current size for a long time!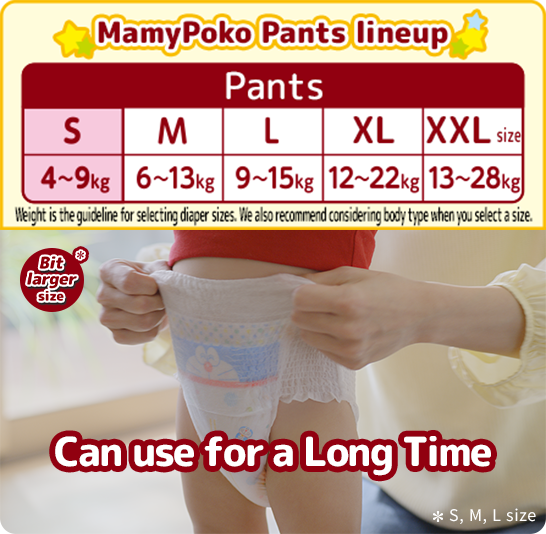 I'd like to try it out. Do you have a small-quantity pack?
Some stores do sell sample packs and small-quantity packs of MamyPoko Pants for convenience during outings.
Please ask at a store near you.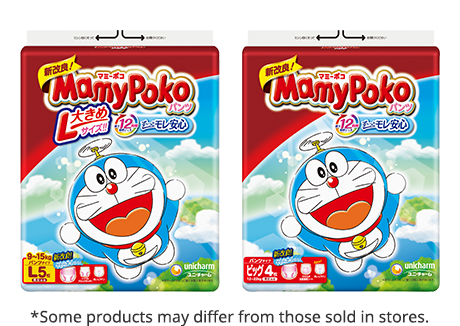 How many types of diaper designs are there?
There are six designs for the M, L, and XL sizes. There are two types in one package.
The XXL size has five designs in total. There are five types in one package.
The cute design with a big Doraemon face on it is especially popular!
Please find your favorite design!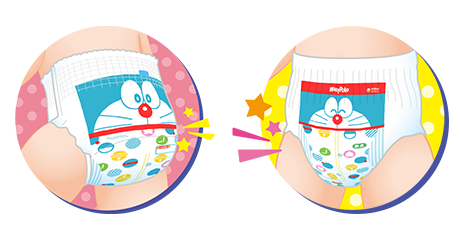 Is there a place on the diaper to write a name?
There is a name area on all sizes of MamyPoko Pants.
This is very convenient when you take your child to a day care center.
Many people use the name area.